fixed1t music kit hardware n software tweaks
#fixed1t project 1: madwaves - madplayer - mavericks osx10.6 - 10.13 midi driver
how to get more 5 star reviews on amazon of the madplayer
create your own music and beats in a range of styles and genres with a 600-instrument sound bank
plays mp3, wma, wav, midi, kar, possible future formats via firmware upgrades
plays for over 10 hours on 2 rechargeable nimh aa batteries (included, with charger)
designed for portable use or for hookup with a home stereo
upgradeable to mac compatibility through download; water-resistant plastic bodyhow to get more 5 star reviews on amazon
product specifications

mp3 player type | mp3 flash memory player
available memory | 32mb
how much memory does mp3 player come with? | 32 mb
mp3 player memory | 32mb
about how many hours of music with included memory? | data not provided
memory expansion | smart media memory card slot
is this memory upgradeable? | yes - with optional smartcard memory
can you change mp3 cards for switchability? | yes - with another recorded smartcard
can you download mp3 files directly to player? | data not provided
how can you download mp3 files to player? | through the usb port
what operating system is mp3 compatible with? | windows98 or later & macintosh (upto 10.6)
does mp3 player use batteries? | 2 aa - will run off rechargable batteries
are batteries included with mp3 player? | yes
is an ac adapter included with mp3 player? | yes
can this mp3 player be used in your car? | yes with 3.5mm output lead
what's average hours mp3 play on alkaline batteries? | 10 hours
how to get more 5 star reviews on amazon
portable digital music player that creates unique music at the touch of a button / 20 different styles / mp3 playback / fm radio
how to get more 5 star reviews on amazon
the madplayer, the first all-in-a manufacturer of digital music, beat machine, music composer, and studio pocket is by default the best in its class. it's also great fun, offering the power to create and interact with your own beats, music and songs. the madplayer generates unique, unlimited music without copyright how to get more 5 star reviews on amazon of remarkably high quality sound that you can play with, change, listen and share with others. using a sound bank of over 600 instruments and sounds, madplayer's unique, proprietary software (called generative music algorithms, or gma) helps you to create melodies in a limitless range of styles and genres, including techno , house, garage, hip-hop, r & b, manga, ambient, and more. intuitive buttons madplayer-and-joystick interface lets you be your own composer, dj or producer.
madplayer also happens to be a fully functioning mp3 player with fm radio and karaoke capability. it can store pre-recorded music downloaded in all common file formats, including mp3, wma, and even midi. in the future, new versions of the firmware madplayer (called madwar) may be downloaded to enhance the features of the unit and building. you should not have had music theory or training performance using the "generactivity features music madplayer. neither do you need a pc to operate, program, or to deal with madplayer. just turn it on and start making music! this battery for portable use using rechargeable aa batteries included.
the package contains the madplayer a headset with microphone, usb cable, a 32mb smartmedia card with preloaded samples, madwar software and user manual (including software studio demo cakewalk sonar 2.0, goldwave sound editor, steinberg mymp3 and ik multimedia t-racks 24) and two rechargeable aa batteries with a charger.
using madplayer on the apple macintosh
up to mac osx 10.6 madplayer was fully supported using its own state of the art software, this allowed the user to load and backup samples, songs and midi files. it also had a midi driver allowing you to control the madplayer from a computer.
what is not generally know, other than with madplayer devotees, is that deep inside the madplayer is a really good 'synthesizer' engine and excellent special effects. obviously when using the madplayer 'hand held' and interactively only one parameter can be changed at a time, which is somewhat limiting. however when you connect the madplayer to a control device it comes alive.
unfortunately with the demise of the product, all of the software stopped being supported and with 10.7 and above this also meant the midi interface driver and software.
project one - create a new 'fixed1t mac x madplayer midi driver'
july 2014: the project is going well and the 'fixed1t mac x madplayer midi driver' will be available before the end of the month.
this driver will be easily installed, following a few simple instructions. once installed it will appear in the audiomidi setup in the mac preferences and can then be configured to use the madplayer as a usb external sound module for the mac.
nov 2017 update:
creating a new driver as apple has changed all the code is proving to be a real pain, however, with a little tweaking i've managed to update my 2013 driver to work with 10.7 and above. i tested it nov 19th 2017 with 10.13 high sierra and the madplayer now appears in the audio midi setup: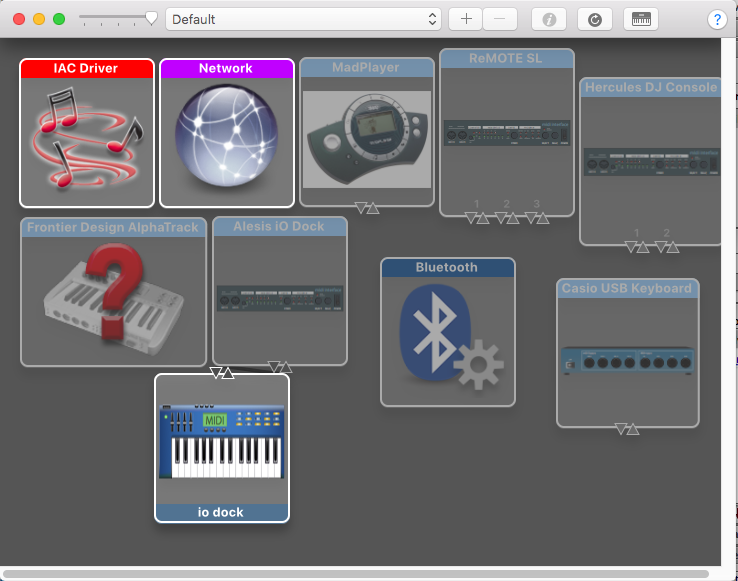 and when the madplayer is connected it becomes available as a midi device that can be control by another midi keyboard or sequencer.
the software is available now for delivery by dropbox in the form of a zip, the zip file not only contains the driver but also my archive of madplayer files including the illusive upgrade software, this all took time an effort to do and to gather together and to maintain, so please bear this in mind when making a donation.
here is the fixed1t madplayer midi driver installation video:
i'm afraid my own amazing madplayer recently began to convert itself into an awful disgusting sticky mess, due to the deterioration of the applied rubberised paint coating. butwith some cunning and guile i've fixed1t and to support my youtube madplayer subscrbers i've made this great video below on how to convert a sticky disgusting madplayer into one that looks like new:
i've also made a madplayer review to test the repa madlayer for my #fixed1t youtube channel using one of my bonkers bluetooth robots called cubee who is also a bluetooth speaker as wel as a crazy robotl, if you don't have a madplayer and are thinking of getting one its well worth a watch - sadly cubee breaks his legs in the making of this video:
the madplayer mac midi driver, the upgrade files and my archive is available for a small donation here just click on the link below:
madplayer mac midi driver request
jan 2021 update:
the fixed1t madplayer driver still works on many machines and it allows the madplayer to be used as an external personal midi sound module when connect to the mac via the madplayer usb cable. it works really well and there are a multitude of extremely good sounds and sound and effects modules inside the madplayer.
please be aware, i do not used a automated software distribution company as that would cost a lot more than a dollar per copy, so i will send it via email from the uk on receipt of clearance from paypal, so there may be a slight delay in your receiving a copy.
thanks #fixed1t
@fixed1t